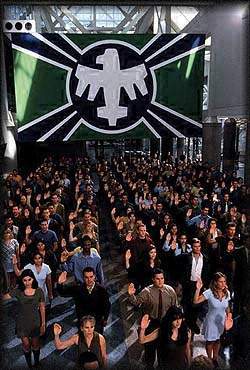 O'Connor can be seen in the third row to the left, still wearing his black civilian clothing.
Accessing FedNet database...
User: ***** ****
Password: **********
Attempting login...
Access granted. Welcome, ***** ********.
Name
: Frederick O'Connor
Rank
: Private
Unit
: 92nd Mobile Infantry Company
Specializations (If any)
: None
Medals
: Bronze Federation Service Badge (5 Years), Wound Badge, Jallarn Campaign Medal
Campaigns
: Jallarn Campaign
Physical Appearance
: 5'4
70 Kilograms
Nordic Caucasian
Auburn Hair
Background
:
Born to a prostitute and a drug addicted father in 2040 (Currently 25 years old), Frederick O'Connor was off to a rough start from the day he was born. He was raised in the north - Mega-City Nine (Aberdeen, where the Federation was founded) in the United Provinces of England & Scotland to be exact - notorious for its crime and atrocious poverty as a result of the large amount of non-citizens.
O'Connor became involved with the illicit drug industry at the tender age of 16. He was forced to begin producing opiates by a local gang eager to "hire" relatively intelligent youngsters from District Nine. Unintentionally, he became a very important member of the gang, rising to a command role at the age of 18.
After a major drug bust carried out by the Metropolitan Federal Service, O'Connor was given two choices - execution or service in the Mobile Infantry with no chance of citizenship. Choosing the latter, he was assigned to a penal division with similarly charged misfits and ne'er-do-wells.
Following 5 years of service in the penal division, O'Connor was assigned to the 92nd Mobile Infantry Company, 4th Brigade, 2nd Division, FCV Jallarn (a memorial ship) due to good behaviour and the fact that he survived a campaign that was predicted to have a 70% morality rate, the Jallarn Campaign.