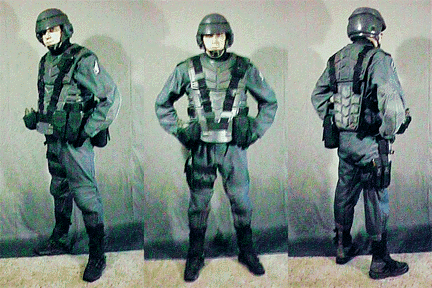 The standard issue Mobile Infantry Combat Dress Uniform consists of multiple parts, all designed for maximum efficiency on the field. This equipment is essential to the survival of each and every Mobile Infantry soldier while on the field.
The H-1 "HERO" Helmet
is the standard issue protective headgear worn by Mobile Infantry soldiers. The helmet protects the cranium and back of the neck from trauma and damage, and is made out of carbon fiber.
The V-7 Carbon Fiber Vest
effectively protects the wearer from ballistic and physical trauma. Bullets from Mormons? A bug's pincer? This vest has seen it all, and laughed at it.  The vest also includes pouches for waterskins, canteens, ammo, and grenades, along with suspenders to keep it in place while moving.
The standard issue Mobile Infantry blue jumpsuit
is designed to allow the wearer maximum maneuverability and comfort while on the battlefield. Well ventilated and fitting wearers of each size, the jumpsuit is the ultimate uniform while in combat.
The standard issue B-4 Combat Boots
are designed to take on any environment and crush it under your tread. These boots are optimal for maneuver on both flat and turbulent terrain.
The uniform includes these essential accessories:
Suspenders

Belt

Form-fitting White Undergarments

Standard Issue White Cotton Shirt

Standard Issue White Cotton Socks

Canteen

Leg and Arm straps for Extra Carrying Space.